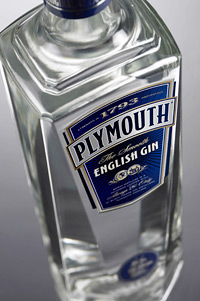 Gin drinks are generally seen as a prelude to food because they do what an aperitif or sundowner does best which is to sharpen and refresh the palate. Since Asian and Pacific Rim styles of cuisine have become popular gin is becoming a fashionable accompaniment to food.
A long, cold glass of gin and tonic goes perfectly with Thai food for example and is a far better taste partner than wine for most styles of Asian food because the spicy, dry flavours of each complement each other.
Now Plymouth Gin has taken the whole concept of pairing gin with food into another dimension. To celebrate its stylish new look, Plymouth Gin has invited celebrity chef James Tanner and his brother and culinary partner Chris, to create an exclusive collection of easy, mouth-watering recipes inspired by Plymouth Gin. James and Chris Tanner believe that food and drink matching is the key to successful entertaining. As they explain "Pairing drinks with specific foods is a really exciting way to either challenge the taste buds through intriguing yet well-matched contrasting flavours, or to enhance flavours for a more balanced dining experience. Our selection of recipes has been developed to complement the smoothness of Plymouth Gin. And all the recipes are easy to follow with simple ingredients to make sure you're out there having fun with your guests and not stuck in the kitchen!"
Whether you are entertaining inside or out, for two or a crowd, these recipes can be prepared with minimal effort. So do it the Plymouth way, grab an ice cold Plym & Tonic, relax and enjoy the taste of summer.
---
Seared scallop with warm chorizo sausage with Plym & Tonic
The sweetness of the scallops coupled with the flavour of chorizo work perfectly with this particular drink – the smoothness of the gin really complements the flavours of this fantastic combination…
Ingredients:
3 x fresh scallops
6 x slices chorizo sausage
6 x dill sprigs
Olive oil
Unsalted butter
Salt & Pepper
Method:
1) Place the chorizo sausage on a metal tray and grill each side for one minute
2) Add a little olive oil to a hot pan, season the scallops and place in pan. Add a knob of butter and sear each side for one minute.
3) Place slice of chorizo and half scallop in a Chinese spoon and serve with a drizzle of chorizo oil and a sprig of dill
Plym & Tonic
1 part Plymouth Gin
3 parts Tonic Water
Garnish with a lime
---
Smoked Salmon and Crème Fraiche Crostinis with Devon Lemonade
This dish and drink is a marriage made in heaven! The citrus flavours in the gin are a perfect accompaniment and really draw on the flavour from the salmon…
Ingredients:
250g sliced smoked salmon
30g crème fraiche
½ lemon
10g chopped chives
Salt & pepper
½ French baguette
Method:
1) Slice the baguette on an angle into ½ cm slices and lightly toast on each side
2) Mix the crème fraiche, chopped chives and lemon juice and season to taste
3) Arrange a piece of smoked salmon on each piece of bread and spoon a little crème fraiche on top. Serve immediately.
Devon Lemonade
1 part Plymouth Gin
½ part elderflower cordial
3 parts sparkling water
Garnish with slices of lemon and a sprig of mint