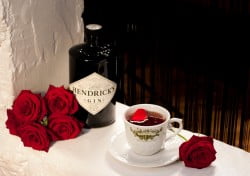 Across the world, each year in the month of June, the beauty and symbolism of the rose is celebrated on International Rose Day this year on the 23rd June. As well as an object of exquisite beauty, the rose is also gifted with a most wondrously delightful scent, subtly floral and delicate enough to be added to many edible items. In fact, the essence of Bulgarian Rosa Damascena is one of the key essences, along with the much-loved cucumber, that makes Hendrick's Gin so remarkable.
To mark this momentous day of celebration, Hendrick's have specially created the 'Hendrick's Rose' cocktail, which perfectly captures the beauty and grace of the rose. When the rose water, lime juice and Cherry Herring are shaken with Hendrick's Gin, the rose notes found in this delightfully different gin come alive. A dry cocktail with a hint of sweet 'Turkish delight', each flavour comes to the fore at different points creating a most unusual, yet delectable cocktail.
Served in a teacup and saucer, the rose petal garnish tops off the specially concocted tipple that pays homage to the beauty and essence of the rose.
Hendrick's Rose
Ingredients
50ml Hendrick's Gin
25ml freshly squeezed lime juice
10ml rosewater
20ml Cherry Heering
Tonic water to taste (up to 50ml)
Method
Add all ingredients (expect tonic) into a mixing glass, over ice and stir well, until chilled and slightly diluted. Add tonic water. Pour into a teapot to serve the drink in teacups and saucers. Garnish with a rose petal.