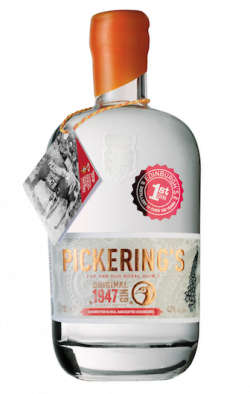 It's always a delight to see even relatively new gin brands continue to experiment to bring something new to the gin party. So I have to say I was very intrigued to be sent a bottle of the Pickering's Original 1947 launched this summer. Needless to say it didn't disappoint – those Summerhall Distillery guys seem to have got the hang of this distilling malarkey.
But hang on a minute these super spicy notes taste familiar. When founders of the Summerhall Distillery Marcus Pickering and Matt Gammell first released Pickering's Gin in 2013 it was based on an old recipe dating from the days of the British Raj in India and first written down in 1947. As I have done with many new gin brands, I helped a bit by giving my opinion as they tried out various iterations of the recipe. And I remember distinctly thinking that the very first version which was an exact recreation of the 1947 recipe was a little bit too heavy on the cloves and maybe needed some angelica and a bit more citrus.
Marcus Pickering takes up the story: "Our original recipe was written down in Mount Mary, India in 1947. However, when we first launched, a bit of fine tuning was required as we very much wanted to create a classic London Gin style gin, not overly spicy, not too sweet, no off the wall ingredients. We wanted a good all rounder that would work in all the traditional gin drinks.
The botanicals in red top Pickering's are juniper, coriander, cardamom, angelica, fennel, anise, lemon, lime and cloves. But we always wanted to recreate the original 1947 which is much more spicy with cardamon and beefed up coriander, clove and cinnamon, less citrus and no angelica. So now that Pickerings's Mark 1 is doing so well that's exactly what we've done. "
Pickering's Original 1947 is going down a storm particularly in Asia where it has just picked up Silver in the Hong Kong International Wine and Spirits Awards. You'll see it now wherever Pickering's red top is sold. And we strongly recommend it although not necessarily in a G & T. Try it instead with one of Gintime's fave mixers, Bitter Lemon, or with Fever Tree Ginger Ale and a squeeze of lemon.
Tasting Notes
On the nose: fresh with spicy clean notes, a hint of liquorice, the tang of herbal toothpaste, the greenness of juniper balanced by the musky aromas of Indonesian clove cigarettes
In the mouth: an instant hit of spice equivalent to breathing deeply the air of Khari Baoli, Asia's biggest spice market in Old Delhi, yes it really is that spicy. Woody aromas of cinnamon and the bitter sweet fragrance of cloves mingle. Intense.
Bottled at 42% ABV