With all the fuss about the food at Christmas it's easy to forget the really important stuff – what to drink. Luckily for us our good friends at Hendrick's Gin have come up with some absolutely fantastic cocktails working with some of London's top cocktail peeps. Hold on to your hats for these little beauties:
Yuletide Eye-opener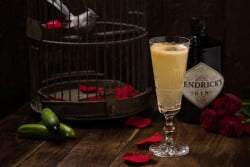 Ingredients:
– 25ml Hendrick's Gin
– Juice of 1 clementine
– 1 tsp lemon juice
– 1 tsp of mulled sugar*
– 1 tsp cointreau
– Top with sparking wine
Method:
Shake all ingredients except the sparkling wine. Pour into champagne flute or coupette and top with with sparkling wine.
*Mix 1 sachet of mulled wine spice (available in all supermarket) thoroughly with 500g of sugar.

Mr Macawber's Gin Punch

Ingredients:
– 400ml Hendrick's Gin
– 400ml madeira wine
– 2 teaspoons brown sugar
– 6 large lemon and orange twists small slice orange
– 1 fresh pineapple
– 4 teaspoons honey
– Juice of two lemons
– 3 cloves
– pinch nutmeg
– teaspoon of cinnamon powder
Method: Mix all ingredients in a saucepan and place on the heat. Let the concoction simmer for 20 to 30 minutes. Taste, adding lemon or honey depending on whether you like sweet or sour. When it's ready, pour into a teapot and serve in teacups. Alternatively serve in a traditional punch bowl. Can be reheated so you can make it ahead.

Forest Fizz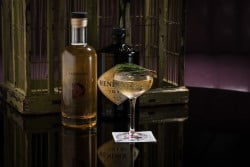 Created by Dandelyan cocktail bar
Ingredients:
– Pine Hendrick's 135ml* ( 200gr pine needle x 1 btl Hendrick's)
– Citric solution ( 4gr citric acid, 3 gr malic acid, 93gr water) 65ml
– Champagne syrup* 65ml
– Pommeau 50ml
– Ginger distillate 15ml
– Water 35ml
– Soda water 135ml (to be added just before the service)
*Serves 4-6 people

Marshmallow Punch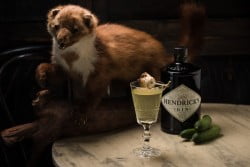 Created by Mission cocktail bar
Ingredients:
– 1400ml Hendricks Gin
– 900ml marshmallow syrup*
– 15ml vanilla extract
– 200ml lemon jucie
– 100ml orange juice
– 700ml boiling full fat milk
Method: combine all ingredients except milk. Bring milk to the boil, once it has scalded, gradually add it to the mixture. You will see the milk curdle and split. Do not stir. Once it has cooled, strain off the milk curd and bottle for 48hrs. After 48hrs the mixture will have clarified, with the solids at the bottom. Strain off the clear liquid and stir 75ml over ice and garnish with toasted marshmallow.