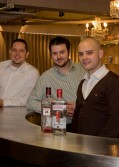 2008 was a great year for Beefeater Gin with the spectacular launch of Beefeater 24 as well as the award of the prestigious Greenall's Trophy for Best Gin for Beefeater Dry at the IWSC. 2009 is shaping up nicely too and to help maintain this momentum Tim Stones has been appointed as Brand Ambassador to take over responsibilities in the UK and the rest of the world whilst Dan Warner takes on the role of Brand Ambassador for Beefeater Gin in the US.
Tim brings with him a wealth of drinks industry experience and a great passion for the iconic premium gin, having already spent two years working alongside Dan in a freelance capacity at the Beefeater Distillery and abroad. Dan will be joining forces with recently appointed US Brand Ambassador Jacques Bezuidenhout to offer an unrivalled education package in the US – the world's largest premium gin market – where Beefeater London Dry is the No 3 premium gin.
Jacques has a CV that is second to none. As well as holding numerous industry awards, he was instrumental in setting up the San Francisco chapter of the United States Bartenders Guild and is one of the respected judges in the world renowned San Francisco World Spirits Competition.