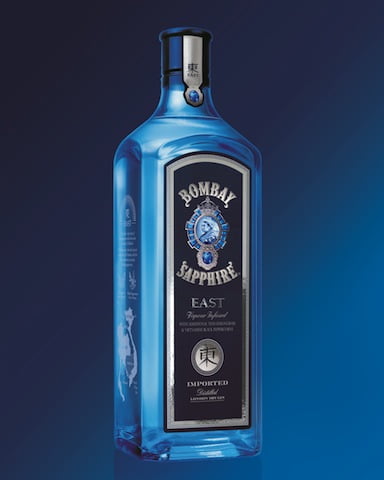 Bombay Sapphire is delighted to announce that Bombay Sapphire East gin has just won Gold Medals at both the International Spirits Challenge 2012 and the San Francisco World Spirits Competition 2012, while also being nominated as Best New Product at the Tales of the Cocktail® awards. This recognition marks an exceptional first-year for the gin, launched in September 2011.
The two Gold Medals were awarded to Bombay Sapphire East after a blind taste assessment by an experienced panel of specialist judges, and recognise the gin's strong allure and superior taste. Infused with crisp Thai lemongrass and spicy Vietnamese black peppercorn, Bombay Sapphire East pays homage to the subtle yet exotic flavours of Asia whilst upholding the high-quality standards expected of a London Dry Gin.It was formulated by Ivano Tonutti, Master of Botanicals for Bombay Sapphire gin. "While traveling through Asia, I was inspired by the sights, sounds and smells that make this part of the world so unique," said Tonutti. "The goal was to recreate this journey of the senses with Bombay Sapphire East, recalling my experience in Asia."
John Burke, Global Category Director, Gins, also commented on the product's success. "We are delighted to see Bombay Sapphire East honoured in this way. To receive such prestigious accolades is a wonderful achievement and shows that, within the spirits community, there is a real appreciation for the exotic allure and unparalleled taste of Bombay Sapphire East gin. Bombay Sapphire has a proud history of imagination and we look forward to more and more people discovering the exotic, distinctive taste of Bombay Sapphire East. So far we have seen great success in launching Bombay Sapphire East in Australia and the U.S., and we are confident the further markets will be equally enchanted when the brand rolls out in the near future," added Burke.
And we happen to know that Bombay Ambassador Sean Ware has picked up a special bottle of Bombay East for the Gintime Tasting Room so expect our verdict soon.