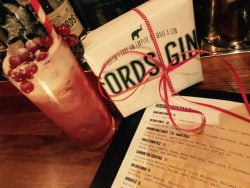 Fords Gin is helping to spread Christmas cheer across London with its newly launched Festive Cocktail Challenge seeking out the best '12 Cocktails of Christmas', giving top bars the opportunity to showcase uniquely crafted drinks and win a one-off trip to New York City, courtesy of Fords Gin.
As of 27th November, a selection of London's finest bars including The Wigmore, Satan's Whiskers and Bar Swift, will be adding a specially created Fords Gin cocktail to their menu, hoping to capture the very essence of Christmas with each sip. Over the next two weeks, Fords Gin – along with special guest judges – will undergo the ultimate taste test as they journey around each of the bars to distinguish the 12 best creations. The cocktails will be marked on appearance (5 points); taste, flavour and balance (10 points); and the Christmas factor (5 points). Entrants are encouraged to bring the full Spirit of Christmas to life through their cocktails, complete with seasonal puns, decorations and traditionally festive flavours.
Following the initial round, 12 finalists will then recreate their recipes for the judges in January, so as not to disturb arguably the industry's biggest month of December. They'll go head to head to be crowned overall winner of the Festive Cocktail Challenge, as well as securing that all-important trip to New York – one of the world's best cities for food, drink and cultural hotspots!
The competition has officially launched, with cocktails available in bars from now until 1 Jan. For more information, visit www.fordsgin.com.