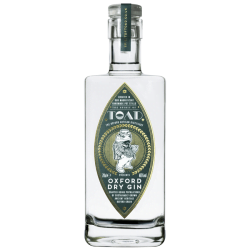 With so many gins launching it seems on an almost daily basis there's no doubt it has become very hard for a new arrival to make an impact in the currently superheated ginvironment. Well, ladies and gentlemen, let me introduce you to my latest discovery – Oxford Dry Gin from The Oxford Artisan Distillery (TOAD), Oxford's first distillery. These guys, founder Tom Nicholson and master distiller Cory Mason, have literally gone back to the roots of gin, dug them up and decided to do it their way.
First of all, they make their NGS from scratch at the distillery. Now the reason most distillers buy in their base spirit is because it's actually quite difficult to achieve a 98% neutral grain spirit and is a job usually best left to the experts. But such is the attention to detail here that they wanted to use ancient and genetically diverse varieties of grain grown locally – in fact within 50 miles of the distillery. So the only way to do that is make the spirit yourself. Local provenance is a strong theme that continues with many of the botanicals used in the Oxford Dry recipe hand-picked from the Oxford Botanic Garden nearby. The more exotic ones are sourced sustainably from organic growers whenever possible. Indeed TOAD"s Cory Mason claims to know exactly where every single ingredient in his gin comes from. And a partnership with the Oxford Botanic Garden, Britain's oldest teaching garden, will allow for more experimentation based on the garden's extensive historical plant archive.
So an impressive and heart warming back story, but the real test comes in the sensory exploration of this remarkable gin.
Bottled at a very decent 46% ABV on the nose Oxford Dry is as clean as a whistle, fresh and almost medicinally juniper. In the mouth juniper, coriander and citrus combine to create a full, well rounded palate. There's sweetness too at the tip of the tongue and a hint of warm spiciness reminiscent of cinnamon and cardamom. A long lush finish completes the experience. At Gintime we don't do grading but, if we did, Oxford Dry is a guaranteed 10/10.
In addition to gin, the TOAD Distillery also makes absinthe, vodka and rye whiskey all according to the field to bottle ethos. So plenty more to come from these new kids on the block.
For more information about the TOAD Distillery and Visitor Centre – check out www.spiritoftoad.com