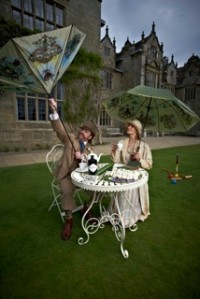 The Hendrick's Unusual Umbrella Emporium at London Cocktail Week will see the humble cocktail umbrella regain its rightful place amongst a good bartender's accoutrements.  The work of its eccentric inventor – Jonas Hanway – will be celebrated at this eclectic bar cum museum from the 12th to the 15th of October.  From brollies for dogs to parasols for smoking pipes, the Emporium will showcase an array of delightfully peculiar umbrellas alongside a selection of cocktails and cocktail umbrellas designed especially for the occasion by the top bartenders in the UK.
There is also a raft of delightful and, of course, slightly peculiar activities for members of London Cocktail Week to enjoy:
A Genteel Tipple through Gin in Literature:  "I like to have a martini, Two at the very most. After three I'm under the table, after four I'm under my host." So said Dorothy Parker.  Gin has fuelled legendary writers, unforgettable characters and gripping plots.  Come and enjoy some especially enlightening extracts and sample wonderfully mixed Hendrick's cocktails from esteemed host David Piper.  All drinks included.  13th & 14th October 6-7pm (tickets £10 each – limited to 50 per session).
The Quintessential Anthology of Gin…and HENDRICK'S in Particular: Hosted by HENDRICK'S British Ambassador Duncan McRae.  Gin has come far from the days of the debauched craze that inspired Hogarth's famous Gin Lane drawing.  This rare opportunity to taste the constituent distillates of the award winning HENDRICK'S Gin will surprise and delight novices & aficionados alike. 13th & 14th  October, 2-3.30pm (tickets £10 – limited to 20 per session).
The HENDRICK'S Unusual Umbrella Emporium: Visitors to the Umbrella Emporium throughout the week will be invited to showcase their artistic ability and flair by creating their own cocktail umbrella design – the best of which will go into production.  Participants will be rewarded for such endeavours with a refreshing HENDRICK'S & Tonic – 12th – 15th October, from 12.00-23.00hrs (free to all, inc non-LCW members)
The HENDRICK'S Cucumbrella Cup: Genteel spirits, delightfully peculiar cocktail umbrellas and cucumber sandwiches all round at the most anticipated cocktail competition of the year.  The bartenders whose creations are on sale will have their work judged by their peers in what is sure to be fabulously  civilized event.  12th  October, 7pm (Invitation only).
Hendricks Gin at London Cocktail Week – 65 Monmouth St, Covent Garden, London, WC2H