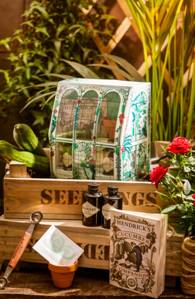 Something for the weekend? Yes please! Here's a lovely new addition to the Hendrick's range – the Hendrick's Cucumber Hothouse complete with cucumber growing kit. And you get to mix your own Hendrick's & T with a pair of minis too.
An ideal introduction to the curious world of Hendrick's Gin and its unique ingredients, the Cucumber Hothouse also includes a book of simple cocktail recipes designed by Hendrick's Ambassador to Britain, Duncan McRae.
James O'Connor, Senior Brand Manager for Hendrick's at William Grant & Sons UK commented: "The off-trade gin market is worth over £350m and almost 90% of sales go through the grocery channel. Super premium gins like Hendrick's are introducing a whole new audience to the category, people who are interested in exploring new flavours and interesting serves and brands.
"Most people still prefer to try before they buy, which makes innovative gift packs and fractional variants increasingly important in the off-trade. Hendrick's Cucumber Hothouse will introduce new drinkers to both the category and the brand, which makes it a big opportunity for retailers who are looking to allocate more space to gin and capitalise on its growing popularity."
Hendrick's Ambassador to Britain, Duncan McRae's suggestion for a delightfully peculiar twist on a classic cocktail:

Hendrick's Martini
50ml Hendrick's Gin
7ml Dry Vermouth
Stir the vermouth and Hendrick's Gin in a mixing glass with ice to dilute and chill. Then strain into a martini glass and garnish with a cucumber ball or three.
The Hendrick's Hothouse pack is available now in selected supermarkets at an RRP of £15.