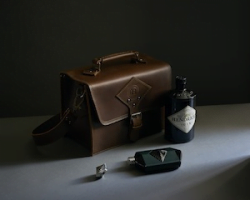 If you're up for splashing the cash this Christmas here's a wonderful present for the gin lover in your life. Hendrick's Gin and fine jewellery designer Hannah Martin have created a luxury limited-edition hip flask that will be available exclusively at Harrods this Christmas. Presented in a handmade leather travelling bag with a bottle of Hendrick's Gin and a bespoke silk and cashmere scarf from Scottish tailors Walker Slater, this luxurious item is the perfect Christmas gift.
Combining the contemporary with the traditional, each limited edition glass vessel isindividually hand-blown and diamond-embossed by artisans in Norfolk, and then encased in green leather.
Commenting on the hip flask, friend of Hendrick's, Hannah Martin, said:
"We've long been fans of Hendrick's Gin – for years it's been our gin of choice, so when the chance to work together came up, it felt like an honest partnership.   The colours are inspired by that of Hendrick's and the back of the hip flask neatly follows the same curve as the Hendrick's bottle. The flask is made entirely by hand using specialist UK craftsmen – another very important factor for me, and for Hendrick's.   It was a pleasure working with a company that holds the same craftsmanship values as our own, and believes in creativity and 'unusual' thinking as much as we do."
Duncan McRae, Hendrick's British Ambassador, said:
"For a long time we've admired Hannah Martin's work for its ability to blend heritage, tradition and luxury with a sense of the unusual. The hip flask is an object that is currently much maligned, however it was once considered an accessory of high fashion, and carries with it a rich history of ritual, stories and of course adventure.  By creating this exquisite hip flask with Hannah, we hope to revive this grandtradition and encourage people to once again enjoy the act of sharing hip flask drinks with their nearest and dearest. We've also been working with some of the UK's best bartenders to create a series of delightful hipflask cocktail serves – prepared and enjoyed without ice – the perfect concoctions to savour when out and about. "
Before declining in popularity in the late 20th Century, hip flasks were a fashionable accoutrement of the upper classes, who used them to create, carry and share spirituous concoctions when they were out and about in town and country.
Just 50 Hendrick's hip flask gift packs will be available online and in-store at Harrods from November 2013 at an RRP of £795.