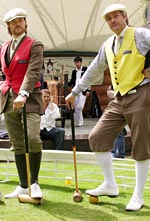 Sunday 15th June, Bedford Square, London
Tweed trousers, Panama hat and polished monocle at the ready, Britain's best bartenders will once again meet at Hendrick's Bartender's Croquet Championships 2008 – the fifth annual event – as it returns to Bedford Square Gardens in London on Sunday 15th June 2008. Last year saw 80 of the world's best bartenders enjoy what has become an unmissable day out in the international bartendering calendar. Bar managers, owners and spirits evangelists are invited to cheer on their favourite sportsmen as they step forward and challenge the skills of our defending champion, Britain's own David Piper.
As the Hendrick's flows, expect the most unusual mix of outrageous costumes, childish antics and sideline heckles with gentlemen mixologists battling it out, mallet to mallet, cravat to cravat. Ensure you keep tabs on the Best Dressed, Most Disorderly and Best Shot of the Tournament and jot down your predictions for whom might take away the title of Winner of the Cup, whilst enjoying a jazz trio against the perfectly manicured settings of Bedford Square Gardens. Gin-filled teacup in hand, who can wish for a more fun-filled garden party; sporting action, gentlemanly banter and the usual guffawing at sorry losers?
Contact Louis Xavier Lewis-Smith, esteemed Hendrick's UK Brand Ambassador, at louis@first-drinks-brands.co.uk for more information on the Croquet event and other Hendrick's Gin matters.