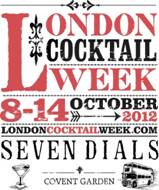 At Gintime Towers we're getting v excited at the prospect of London Cocktail Week. London Cocktail Week is the biggest drinks festival in the UK  and this year will be based in the beautiful Seven Dials area of Covent Garden from Monday 8th to Sunday 14th October.
There's a lot on and the the area's mix of high end luxury hotels, underground bars, retail spaces and  exclusive members clubs will be buzzing with tastings, masterclasses, pop up shops and cocktail parties. These seven streets will be the must-visit of the week so sign up online, reserve your wristband in advance and see you there.
Outside of Seven Dials, the London Cocktail Week Cocktail Tours will once again be taking place with some of the best bars in the city throwing open their doors to offer a bespoke London Cocktail Week cocktail for just £4 to wristband wearers. With the new London Cocktail Week bar accreditation system, every venue will be really upping their game so take some time out to explore the city and discover some new hangouts.
London Cocktail Week vintage Routemaster buses will be offering free transport out to the areas not within walking distance of Seven Dials and will be leaving from Centre Point at 7pm and 9pm – expect to be entertained during your journey.
Registrations for the £4 London Cocktail Week wristband and bus passes are open now and will be available to collect from the London Cocktail Week shop in Seven Dials from Sunday 7th October. Once the week gets going, they go up to £10 – so sign up now. Details of activity at Seven Dials' participating bars, hotels and restaurants are available here –  Sevendials.co.uk