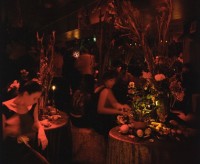 We've gone a bit anti consumerist and bah humbug on Valentines Day this year. That's why we'll be rushing along to the Hendricks Gin sponsored Loss Valentines Day ball where sadness, absence and crying are the themes of the evening.
There's a seminar on how to deal with a broken heart by The Independent's Agony Aunt Virginia Ironside, and many other depressing and miserable acts including Ophelia Bitz and Dickie Beau, a meeting of the Sad Poets Society and morose music from the last 500 years. If the tears don't come easy, the Russian band Mazaika and the onion chopping antics of Viktor Wynd will help.
To prove that revenge and not love conquers all, there will be a voodoo doll making session so you can stick pins in a likeness of your former beloved. And to put the final nail in the coffin of your romance, you can book to sign your divorce papers live on stage throughout the night.
It's not all doom and gloom though – this year the Loss Exquisite Misery Ball will feature the Hendricks Kissing Booth, a glorious ode to Victoriana and the chance to escape the miserabilist crowds and pucker up for a smooch with someone special – if it all ends in tears, you'll be in good company.
LOSS VALENTINES DAY BALL
Wed 13th February
Tabernacle Arts Centre
Powis Square,
London
W11 2AY
You can buy tickets for an evening of Exquisite Misery at the Loss Valentines Day ball by clicking on the link below.