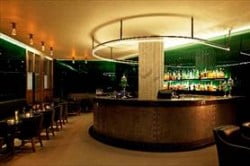 Green Bar Botanicals & Tonics, a distinctive new gin bar celebrating London's history of using botanicals in gin production and mixology, as well as the various styles in which gin is served is just about to launch at one of London's most historic establishments. Created by the bar's expert mixologists, the new Gin Journey menu at Cafe Royal will feature imaginative takes on the favoured gin and tonic cocktail, made from a wide range of gins, tonics and garnishes from all around the world with a particular focus on their personality and the history behind them. This union of local and international traditions and flavours will be seen in combinations such as Dodd's Gin with Fever Tree Mediterranean Tonic, fresh chillies and lemon peel. Hand-crafted in Battersea, Dodd's Gin  is a tribute to Ralph Dodd, a brilliant entrepreneur, schemer and engineer, and the gin a perfect partner to the Green Bar as a champion of innovation.
Green Bar Botanicals & Tonics will also feature an impressive range of six Tanqueray gins, including some rare limited editions: Tanqueray Old Tom Gin – a classic sweeter style of gin with high proportions of juniper, angelica root, coriander and liquorice, that sees founder Charles Tanqueray's 1835 recipe revived in the present day, Tanqueray Malacca – a sweeter gin with less juniper emphasis and more citrus than the classic style and Tanqueray Bloomsbury – based on Charles Waugh Tanqueray's 1880s' recipe when the distillery was located in the eponymous London district. With prominent juniper notes and botanicals including cassia bark, winter savoury and angelica, this lends itself to adding extra oomph to classic gin-based cocktails. Tanqueray Rangpur will also feature and the rare Rangpur lime traditionally used to smooth down the gin brings an exotic bold flavour to the already perfect combination of juniper, coriander, bay leaves and ginger.
Other mixes will include Portobello Road No.171 with Fever Tree Indian Tonic, blood orange and rosemary; Half Hitch with 1724 Tonic and cinnamon; Elephant Gin with Thomas Henry Indian Tonic, fresh ginger and lemon grass; and Monkey 47 Sloe Gin with Fever Tree Indian Tonic and orange peel.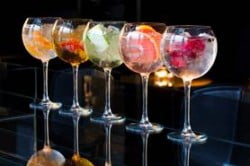 Carefully crafted to celebrate the individual character and history of the gin, with the perfect garnish selected to complete the experience, each cocktail will be served in balloon style glasses that are said to trap aromas inside the glass, accentuating the taste of the gin. Celebrating the diverse history of the location and the bohemian intellects who notoriously frequented Café Royal, Green Bar Botanicals & Tonics will also feature an Absinthe Experience, where guests will be able to sample a selection of spirits and cocktails including La Fée, Jade and Pernod. The bar will also see the addition of several Café Royal signature cocktails including the Mezcal Royal with Mezcal, Carpano Antica Formula, DOM Benedictine, crème de caçao, Angostura bitters and a twist of lemon and the Royal Blazer of Baron de Sigognac VSOP Armagnac flambéed with a wild berry liqueur and served with caramelised raspberries and blackberries. Furthermore, Green Bar Botanicals & Tonics will now serve a small plates menu to complement this new range of cocktails.
For reservations please contact the team directly on +44 (0)207 406 3310 or via email restaurants@hotelcaferoyal.com.