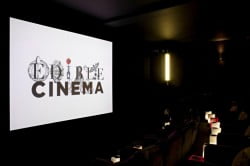 Spookiness and fun combine in the new series of Edible Cinema and Bombay Sapphire special screenings at The Aubin Cinema in Shoreditch on Sunday 28th and Wednesday 31st October 2012. Beetlejuice, Tim Burton's much loved comedy horror, takes on a twist at  Edible Cinema, providing an unearthly and unique experience in a comfortable and stylish location.
Following Secret Cinema, scratch and sniff cinema and film scores re-imagined by DJs and musicians, Edible Cinema truly enhances the film with an integrated tasting experience; a collaboration between the Soho House Group, renowned experience organiser Polly Betton, experimental food designers Andrew Stellitano and David Bradley (aka The Curious Confectioner) not to mention top Bombay Sapphire mixologist Sam Carter.
The audience is provided with a series of numbered 'packages' before the start of the film, each of which contains a mystery food. At specific points during the film, large placards with corresponding numbers will be shown to the audience instructing them to consume the contents of the packages. On arrival, guests will also be served a Bombay Beetle Juice cocktail. The cocktail's devilishly fruity, rooty, spicy and citrus notes incorporate Bombay Sapphire, bright beetroot, tangy lemon juice and sweet Chambord black raspberry liqueur, all topped with fiery ginger beer.
The Edible Cinema experience is not just about eating; the smell, texture, even the way the mouth feels after eating the contents of the 'packages' will correspond to what's happening on screen. Guests can eat their way through Beetlejuice's surreal landscapes and inhabitants – slice of sandworm anyone? – as the flavours, smells and textures underscore the action on screen, from eye popping head shrinking powder to the essence of Beetlejuice himself . Food designer David Bradley has more dastardly and delicious tricks up his sleeve to bring a whole new dimension to this kitsch cult horror classic.
The Aubin Cinema is run in conjunction with Shoreditch House private members' club and forms part of the first Aubin & Wills destination store together with The Aubin Gallery, a collaboration with leading British artist and curator Stuart Semple. The cinema provides an unrivalled level of comfort for up to 45 viewers with velvet chairs and sofas.
Watch out too for the 'Christmas Edible Cinema' at the newly refurbished Electric Cinema on Sunday 16th December. There will be a matinee and an evening screening of a classic Christmas film, which will be announced closer to the time.
Edible Cinema will take place on Sunday 28 October at 4.00pm and Wednesday 31 October at 9.00pm at The Aubin Cinema, 64-66 Redchurch Street, London E2 7DP
Tickets are priced as follows: Armchair seats £23pp Sofa seats £50 (£25pp) Deluxe sofa £52 (£26pp) Angled seats £20pp
Tickets go on sale on Friday 13th October. To book, please email ediblecinema@aubincinema.com
For press enquiries relating to Bombay Sapphire as well as details on how to make the 'Bombay Beetlejuice' please contact: bombaysapphire@aprcommunications.com