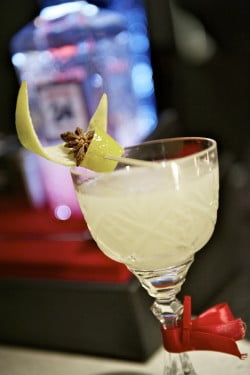 Last Friday, Nathan O'Neill from The Merchant Hotel in Belfast was named the UK winner of the 'Beefeater 24 Cocktail Competition', held at Circus in central London. Nathan will now represent the UK in the global final at the Beefeater Distillery in London this November.
The competition between 12 bartenders – who competed in heats in London, Edinburgh, Sheffield, Leicester and Bristol, as well as via an online entry system – was judged by an expert panel, including Beefeater Brand Ambassadors Tim Stones and Sebastian Hamilton-Mudge. Each bartender developed and served a tea-infused cocktail incorporating Beefeater 24, and were judged on the creativity, originality, aroma, taste and presentation of their cocktail.
Nathan, who created the 'Mr Burrough's Reviver'(pictured), will now go on to compete in the global final on the 27th and 28th  November at the Beefeater Distillery for the chance to be crowned 'Beefeater 24 Global Bartender 2012', as well as a 'money-can't-buy' trip to Japan. As the UK winner, he has also received an exclusive Beefeater 24 Alessi Bartending Kit, a certificate, a trophy and a prestigious gold teapot.
Nathan O'Neill says, "Mr Burrough's Reviver is inspired by the flavours of the global trade in the 1860s when James Burrough himself would have been acquiring fruits, herbs, teas and spirits to create what we know today as Beefeater Gin. Danish Aquavit mixed with Parisian absinthe, infused with Lapsong tea, green tea syrup created from sencha and a dash of beautiful almond water complements the botanicals of Beefeater 24 to bring 19th century flavours to 21st century London."
Recipe for Mr Burrough's Reviver
Ingredients: 
2 dashes Absinthe infused with Lapsong Tea (1g to 75ml cold infused for 15 minutes)
2.5ml Almond water
10ml Green Tea Syrup
15ml Fresh Lemon Juice
10ml Aalborg Taffel Akvavit
40ml Beefeater 24
Garnish: Lemon Spiral on side of glass
Glass: Coupette
Method:
The absinthe is infused with Lapsong Tea – 1g of lapsong tea is infused into 75ml of Absinthe – this is then set in a bath of ice and left to infuse for 15 minutes. The Almond Water recipe is 600ml of water and 250g of almonds, blanch these and allow them to sit in water for 2 hours. Blend or blitz and allow to simmer for 3 hours. Strain off the almonds and reduce the almond water by half. Once this is done, add 10ml of orange flower water and 180g of caster sugar (Monin Orgeat may also be used, but allow for a slightly different texture). The green tea syrup is 200g of Sencha Tea into 500ml of sugar syrup, simmer on a low heat and remove before boiling, allow to cool and bottle. To create the drink, add all ingredients into a Boston tin and shake using large blocked ice, before double straining into a 3oz coupette glass and garnishing.