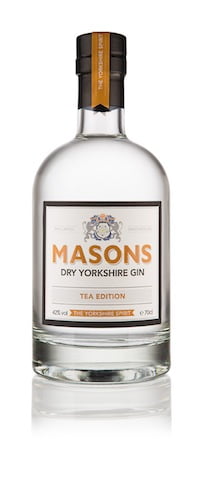 Founded by gin lovers Karl and Catherine Mason who knew enough about gin to make a spirit to appeal to their own very specialised taste, Mason's Yorkshire Gin is indeed made in Yorkshire in the small market town of Bedale. In fact it seems the Masons have singlehandedly revived the tradition of distilling in Yorkshire.
After much trial and error the botanical formula was arrived at and the gin was launched in 2013. The recipe includes juniper, coriander, almond oil, fennel, cardamom, bay leaf, Schezuan pepper and lemon, orange and lime zests. So, in many ways a very traditional recipe and Masons is clearly strongly juniper (which we like!)
In 2015 the original Mason's Yorkshire Gin was boosted with the arrival of two sister expressions – Yorkshire Gin Lavender Edition and Yorkshire Gin Tea Edition. All three gins are bottled at 42% ABV and promote their use of Harrogate water to reduce bottling strength. I'm never entirely sure that a specific water source makes much of a difference to the final taste of gin as all the water used in gin production tends to be filtered, demineralised water hence exceptionally pure. But given that a terrifyingly large proportion of the gin in your bottle is water it certainly can't do any harm!
We were particularly intrigued to try the Yorkshire Tea Edition as using tea as a botanical in gin has become a bit of a thing. Pioneered by Beefeater in the very splendid Beefeater 24 with its Chinese green tea and Japanese Sencha tea ingredients it's a trend that doesn't always fly. In fact I think one could safely draw a veil over the Heston Blumenthal Earl Grey and Lemon experiment, in my view a rare miss for this master of flavour.
The Yorkshire Tea edition is very different. On the nose lovely dark tannin notes make an instant impression and mix perfectly with piney juniper and the softer spice flavours of cardamom and fennel. On tasting with water the flavours become more perfumed but remain crisp and refreshing as the citrus blast kicks in.
It's great to see something new and different of quality brought to the gin party and one can see how well this gin will work in the brand's suggested serve of a G and T garnished with orange peel and cardamom pods. I could also see it shine in a gin punch either the summer version with lots of fruit or in a warm punch with cinnamon and lemon. Suggestions on a postcard please!!
For more information on the full range of Masons Yorkshire Gin check out www.masonsyorkshiregin.com