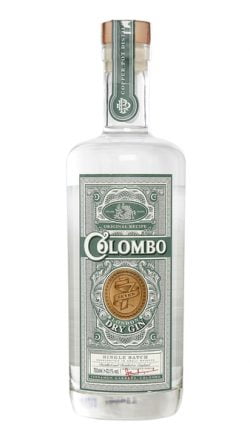 Colombo 7 Gin has been on our radar for some time now not least because Colombo in Sri Lanka is Gintime Editor Geraldine Coates' birthplace and original home. Here's her review.
Colombo Gin launched around two years ago but its history goes way back. The brand is owned by the family run Rockland Distillers founded in 1924, Sri Lanka's biggest distilling company, and is based on a recipe originally created by company founder Carl de Silva Wijeyeratne.
Rockland's came into being to apply advanced distilling techniques to producing arrack, the local drink, and has been remarkably successful in not only transforming the quality of the spirit but also the image of arrack itself.
Back to gin however. During World War 11 distilling from grain was virtually prohibited in the UK in order to conserve stocks of grain for food. The distilled alcohol that was made, generally from a molasses spirit, was diverted to the war effort – described by the stoical British as 'cocktails for Hitler'.
As a local industry in part of what was then the British Raj, Rockland's was legally required to manufacture spirits in support of the war. At the same time, because British made gin was temporarily no longer available, Chairman Wijeyratene decided to produce gin that would appeal more to European palates than arrack. This was initially blocked by London, as it was believed that good quality gin could not be made outside the UK. A compromise was reached in the form of new legislation to govern the production of what were then called 'non-native' spirits ie. gin, vodka, white rum, whisky etc.
The newly introduced Ceylon Made Foreign Liquor (CMFL) regulations permitted the production of gin in Sri Lanka (then Ceylon) and were also implemented in India creating Indian Made Foreign Liquor. Interestingly the legislation is still in place, but, if you're ever tempted to buy a bottle of rum for less than £2 in India, maybe think it through a bit.
To this day Rockland's produce a range of white spirits under the company mark and Rockland's Dry is Sri Lanka's biggest selling gin. Compared with classic London Dry gins it is much lighter in flavour without the juniper hit that one perhaps wants from a more ginny gin. That's possibly because it is made with a cane spirit and I'm not entirely sure about the provenance of the juniper itself. Having said that it goes down an absolute treat as a sundowner after a long day in the tropics and its' popularity speaks for itself.
Colombo 7 Gin is a different kettle of fish entirely. When developing this premium expression, current Chairman Amal de Silva Wijeyeratne delved in the Rockland archives and found a recipe created by his grandfather which specified some traditional local spices such as Sri Lankan cinnamon bark (from the original cinnamon gardens in Colombo now known as Colombo 7 hence the name), Sri Lankan curry leaves and ginger root. To these have been added the more traditional botanicals of juniper berries, coriander seed, angelica and liquorice root. It's made from a grain spirit by Alcohols Limited in the UK to London Dry production methods and bottled at a very respectable 43.1% ABV.
With this base and at this strength there's no mistaking the juniper, which initially combines perfectly with the sharpness of cinnamon before developing into more subtle spiciness. A long dry finish with warming ginger notes completes the picture. All in all a tremendous take on a traditional London Dry gin with carefully researched botanicals that not only add something special to the flavour of the gin but are relevant to its' unique story.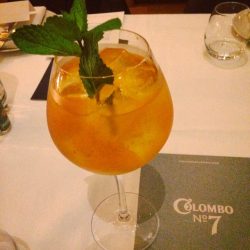 Colombo 7 Gin is absolutely made for a G&T especially with Fever Tree, the recommended serve, and I had the pleasure of presenting it to a packed audience of gin lovers at the Galle Literary festival in Sri Lanka in January. But there are loads of other serve options. I'm particularly intrigued by the ideas of Ryan Chetiwardana who shares my Sri Lankan heritage and has been working with the brand to come up with delights like The Gajar Army & Navy (carrot-infused Colombo Gin, honey-cashew orgeat and lemon). I also love the concept of long gin drinks as an accompaniment to Asian food – so how about his turmeric and yuzu G and T for example? Mmmm..