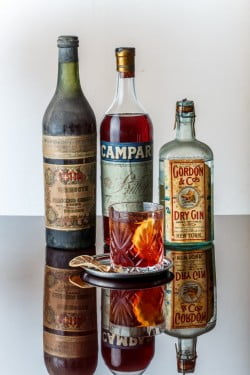 In the US Negroni Week is currently celebrating our favourite cocktail the Negroni by raising money for good causes for every Negroni sold – see here for details – http://negroniweek.com/ At Gintime we've long been fans of the Negroni so imagine our delight to hear about the mixing of the world's oldest Negroni which takes place today in where else? Milan, the birthplace of Campari, the crucial ingredient
Creating a little bit of history Salvatore Calabrese, hailed as 'the Maestro', will mix this iconic cocktail in the renowned Camparino in Galleria, the very birthplace of Campari. Using ingredients with a combined age of 300 years Salvatore Calabrese will recreate the iconic recipe of 1 part Campari, 1 part red vermouth and 1 part gin using a bottle of Campari, a bottle of Cinzano red vermouth from the 1920s and a bottle of Gordon's Gin from 1908. The Campari and Cinzano bottles to be opened for the occasion have been carefully preserved in the archives of the Galleria Campari. The gin was recovered by "the Maestro" himself from a collector.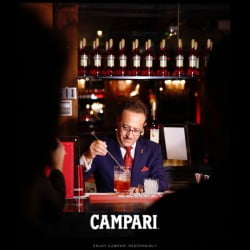 The Maestro loves a challenge, and his repertoire already includes the most expensive cocktail in the world, which also included antique bottles. The foremost experts of mixology, Negroni lovers and friends of The Maestro and Campari will be present to celebrate this memorable event.
Salvatore Calabrese states, "Camparino, originally opened by Davide Campari in 1915, is the perfect location since the Negroni wouldn't exist without Campari. As the bar celebrates its 100th anniversary, now is the perfect occasion to pull out these rare bottles and mix up the oldest Negroni in the world."
"I'm truly honoured and humbled by the opportunity," continues The Maestro. "I wish the 300-year-old Negroni could be a staple on the cocktail list at my bar, Salvatore's Bar at the Playboy Club London. The Negroni is a cocktail icon, elegant in its simplicity, that my staff and I regularly mix for our clients with the utmost attention to the unparalleled recipe… Salute!"