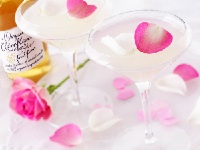 Singleton's can rest easy: not every couple is happy and smug on Valentine's day. According to Counselling Directory.org, the online directory of qualified counsellors and psychotherapists, the most romantic day of the year can highlight the cracks in a relationship and over half their relationship experts regard it as a major flash point where couples may bring their partnership to an end. However, it isn't all bad: 72% of councellors believe that Valentine's day is an opportunity to remember what's good about your relationship and work at injecting love and thoughtfulness. Their top ten tips include making February 14th the day you communicate in a deeper way and to remember that nothing says 'I love you' like a warm, embracing hug. They also suggest going for a romantic walk and something called 'sensual touch'. Ooh-er!
Much as we agree with all these helpful sentiments what we'd like most on Valentine's Day is for our loved ones to shake us up a great cocktail. An Aviation is both sophisticated and cheeky, perfect for a night of romance and seduction. Here's our chum Gary Regan's recipe:
45 ml (1.5 oz) gin
15 ml (.5 oz) maraschino liqueur
15 ml (.5 oz) crème de violette
15 ml (.5 oz) fresh lemon juice
Shake over ice and strain into a chilled cocktail glass.