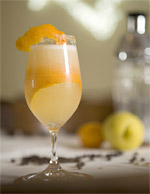 50ml Beefeater Lemon and Tangerine Shrub
20ml Negus (Spiced Port)
10ml Gin Spiced Sugar
100ml Prosecco
For the Beefeater Lemon and Tangerine Shrub place the zest and juice of 2 lemons and 4 tangerines in a pan with 100g of jam sugar. Then bring to the boil and simmer until it starts to thicken. Then add 500ml of Beefeater Gin and bottle.
To make Negus take 600ml of Port add the juice and zest of 1 lemon, 125g of castor sugar and 1 litre of boiling water. Then liberally grate in some nutmeg. Then allow cooling and straining before use.
For the Spiced Gin Sugar infuse 1 star anise, 6 crushed juniper berries and 20 coriander seeds, along with the zest of a lemon and tangerine in 200ml of boiling water. Then add 400g of castor sugar, dissolve and allow to cool. After 24 hrs strain through muslin before use.
Carefully peel the whole zest of a lemon in a spiral and place in a sugar rimmed champagne flute. Shake the sugar, port and Beefeater shrub on ice and strain into the garnished flute. Top up with the Prosecco.