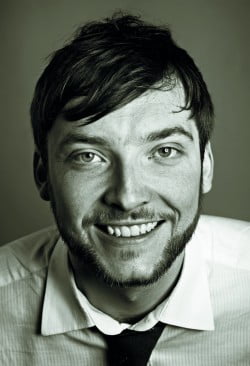 We're currently LOVING Manchester so Gintime caught up with Jody Monteith of renowned Manchester bar consultancy, The Liquorists.
Tell us a bit about you and what you do?
My name is Jody Monteith. I'm 28 years old, living in Manchester for the last 2 years although I hail from Glasgow. I've worked in the hospitality industry in some capacity for the best part of 14 years. Throughout the years I have undertaken roles in various capacities from my first full time job in a micro brewery through Stella Artois brand ambassador to General Manager of bars/ restaurants and clubs through to multi operator staff trainer.
The Liquorists, established in 2010 is my and co-founder Tom Sneesby's brainchild. We have very quickly established ourselves as the North's premier drinks industry consultancy, specialising in brand development, bespoke training and tasting events and a multitude of tailored consumer facing events.
How did you get into cocktails in the first place?
I initially started working with cocktails through a desire to further my learning. My first experiences of the trade with a vision to taking it on as a career path was in the production of beer, which I did and still do find fascinating. It was this insight into production methods that led me to ask questions. What is gin? How is it made? Why does it taste the way it does? I chose to work in a more spirits based environment and quickly found myself making cocktails. Incredibly bad ones incidentally. In the early days the places I worked in had no focus on quality it was purely volume. I then progressed to self taught cocktail menu developer through some good old fashioned blagging and plagarising of the Sauce Guide. Like many bartenders I found myself after a few years working in a proper cocktail bar, and this involved forgetting everything that I thought I knew and starting all over again. The best thing I ever did.
What's the best thing about your job?
In the capacity I now work in, I find myself at least two days a week involved in consumer facing tasting events. This is one aspect of the job I greatly enjoy. As a bartender who no longer finds himself behind the stick on a day to day basis, I like to think of these events as all the best bits of bartending without 3 foot of pine in front of you and cleaning down stations at 3 in the morning. I still get to be creative, I still make drinks, I still get to deliver an experience that hopefully people enjoy, buy into and return for. I'm still very much a host. Above all the people that attend do so because they have an interest and passion for the same things I do. They pay to come and listen to me wax lyrical and flail my hands. It's brilliant.
Any inspirational figures who helped you along the way?
Two major influences in my career. Firstly my father who was a publican. I grew up in a pub and distinctly recall my dad telling me "under no circumstances work in a pub". Obviously I took that on board. Another influence was Chris "Chico" Miles who was my manager at Booly Mardys for 3 years and is now owner of The Black Cat in Edinburgh. It was Chico who told me that I actually didn't know anything and was better off effectively starting from scratch again. Fine advice in retrospect, even if I did get a little humpty at the time.
Who do you most admire in the industry?
I think our industry has a habit of swallowing you up. There is a very real danger of allowing it to absorb you. I love it, don't get me wrong but there is more to life than cocktails and booze and I really admire people who can strike a balance of being incredible at their chosen profession and put the hours in, but still have a life.
Your favourite G and T?
Now you're asking, probably Gordons Export Strength  and Schweppes with lemon, purely and simply for nostalgia.
Your favourite gin cocktail?
Changes all the time depending on venue, company, climate and all that. But currently it's the Singapore Sling.