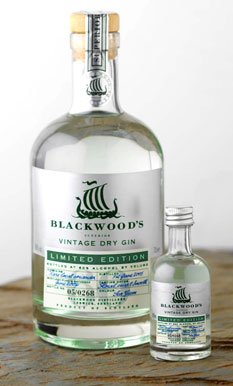 With gin currently on a roll and lots of brands experimenting with their botanicals recipes to create new and unusual gins, it's good news to hear that Gintime Gin Brand Blackwood's has come up with something completely different. In fact it's a whole new way of thinking about gin that is much more akin to whisky.
Not surprising really when one remembers that Blackwood's Gin is part of the Shetland Whisky Company, the makers of the first whisky to be distilled on Shetland, the most northerly part of the British Isles, although until the Distillery is built all distilling is on mainland Scotland.
Blackwood's Vintage 60 is a new addition to the Blackwood's Vintage range. It's a limited edition 60% abv vintage dry gin made with botanicals from Shetland. These include coriander grown under glass, wild water mint, a special type of angelica from the strain introduced by the Viking settlers, the flowers of the sea pink which grow wild on Shetland cliff tops (and are reputed to be a cure for hangovers), and meadowsweet which grows widely in Shetland and the Northern Isles. These botanicals are the best, first-flush, hand harvested pickings of the season. Because growing conditions on the island vary from year the flavour profile of the Vintage will be subtly different each year. That's why it's called Vintage. The idea here is to create a gin with a sense of place like a fine wine or an aged malt whisky and which appeals to consumers who care about the quality of their food and drink and where it comes from.
Only 22,000 bottles of Vintage 60 are made each year, the same number as the population of Shetland. Each bottle is individually numbered and made in small batches using round stills with layers. When fresh not dried botanicals are layered, the steam of the alcohol goes through and absorbs more of the flavour and more of the plant oils producing a much more intense taste. Using a spirit base of barley is unusual for gin but contributes fresh spirity flavours to the final product. Its exceptionally high 60% alcoholic strength reflects the latitude of 60 degrees north where it is made. In previous years the Vintage at 40% abv has been extremely successful, winning numerous top awards so it was an interesting exercise to taste a selection of Vintage years.
Tasting Notes
Vintage 40 abv 2003
Clean and subtly aromatic on the nose. Salty and fresh in the mouth with a lingering minty finish.
Vintage 40 abv 2005
More pungent and spicy than the 2003. In the mouth there's a bit of added sweetness with a more intense flavour and a soft full bodied texture. Light and crisp finish.
Vintage 60 abv 2005
Floral notes predominate but they are well balanced with subtle juniper and laid back fruitiness. Exceptionally rich mouth feel with hints of coriander and the earthiness of angelica quite noticeable. A pleasant spiciness is followed by a long dry finish.
Cocktail – Sea Pink
50 ml Blackwood's 60
50 ml Noilly Prat
2 teaspoons gomme syrup
2 teaspoons lime juice
¼ Pomegranate, skin removed
A few pomegranate kernels
Place the extra pomegranate kernels into the bottom of a chilled martini glass. Place the rest of the ingredients in a shaker 1/3 full of ice. Shake and strain into the glass.
Website: www.blackwoodsgin.net