Christmas is a great time to try something new and Juliet Lawrence Wilson has come up with a delicious, seasonal menu of delights guaranteed to put your guests in a festive mood. All recipes make 20 canapés.
---
Mini Turkey Burgers with Cranberry and Sloe Gin Sauce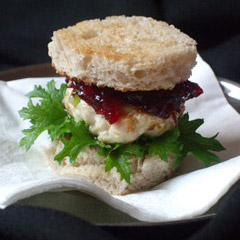 2 boneless, skinless turkey breasts, roughly chopped
1 egg yolk
4 spring onions
1 garlic clove
8 sage leaves
A little flour
Salt and pepper to season
A few slices of thick cut white bread
A few lettuce leaves, torn up into small pieces
For the sauce:
2 cups fresh cranberries
Zest of 1 orange
1 tablespoon soft, light, Muscovado sugar
200ml Sloe Gin
Place the turkey, egg yolk, garlic, sage, and salt and pepper to season, into a food processor and blitz until all is finely chopped. With a little flour on your hands, shape into 20 mini burgers. Refrigerate until needed.
To make the sauce: Place the cranberries, orange rind and gin in an ovenproof dish and bake, covered at 180oC/350oF/gas 4 for 45 mins, or until the cranberries are soft and tender.
Using a small cookie cutter cut 40 rounds from the white bread and toast lightly on each side.
Grill the mini burgers for 5 mins each side or until they are cooked through.
Then place a few pieces of lettuce on a toast round, top with a mini burger and cranberry sauce and finish with another toast round. Hold together with a cocktail stick if necessary. Serve.
---
Mini Baked Potatoes with Brie and Red Onion Marmalade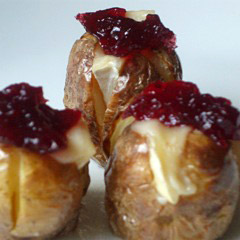 20 tiny new potatoes
1 tablespoon olive oil
2 tsp sea salt
200g Brie (or you could use Stilton)
For the marmalade:
1 red onion
Tablespoon soft, light, muscavado sugar
Juice of half an orange
Dash of red wine
Make the Red Onion Marmalade in advance: thinly slice the onion then soften in a pan, over a medium heat until lightly caramelised and tender. Add the sugar, orange juice and wine and simmer down until the mixture is thick and sticky.
Preheat oven to 200oC/400oF/gas 6. Toss the potatoes in the olive oil and salt, place on a baking sheet and roast in the oven for 30-40 minutes until they are soft and crisp. While they are still hot and using a dishcloth to protect your hands, cut a cross in the top of each potato and top with a knob of Brie then a teaspoon of red onion marmalade.
---
Meringues with Chocolate and Pomegranate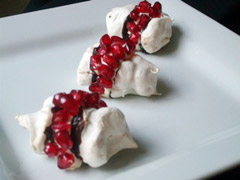 2 egg whites
Pinch of salt
125g castor sugar
1 bar dark chocolate
500ml double cream
Seeds of 2 pomegranates
Preheat the oven to 120oC/250oF/gas1/2. Make sure your equipment is very clean and dry and there's no trace of egg yolk in the whites. Place the whites in the bowl and add the salt. Whip it until the whites are stiff. This is your first chance to make a mistake. If you over-whip the mixture, the whites will separate. The trick is, get them stiff – then stop! Have a look at the bottom of the bowl. If you've gone too far, there will be white liquid that looks like raw egg white in the bottom. If this has happened, chuck the egg yolks into the mix and make an omelette instead. Once the whites are stiff, whisk in a tablespoon of sugar. Repeat this until you have used 3/4 of the sugar. This is the second place something can go wrong: if you add more sugar before each spoonful is completely whisked in, the mixture will become runny and won't make good meringues. Be patient! Accept that your arm is going to really hurt from the whisking. Wonder why nobody has made a hand held whisk strong enough to whip egg whites and sugar. Your mixture should be very thick and glossy. Fold in the rest of the sugar. Place 40 teaspoonful sized blobs of the meringue onto baking parchment-lined sheets and bake until crisp, about 1 hour. Allow to cool and, if you are not using them yet, place in a sealed tin to store.
Melt the chocolate and dip the flat surface of each meringue in the chocolate to coat. Whisk the cream until it forms peaks. Sandwich two meringues with cream and roll the cream edge in pomegranate to coat the sides.
---
St Clement's Trifle with Clove and Cardamom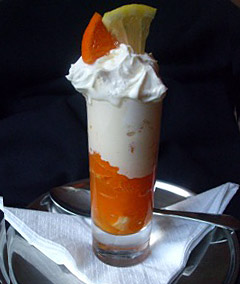 10 ripe, juicy clementines
3 cloves
Juice and rind of one lemon
2 cardamom pods, shelled
2 egg yolks
2 tablespoons castor sugar
1 dessertspoonful flour
¾ pint milk
300ml double cream
Icing sugar
Cut the skin and pith off the clementines with a small, sharp serrated knife, collecting the juice. Quarter then slice the fruit and place in a pan with the juice, a dessertspoonful of the lemon juice and the cloves. Simmer very gently until the aroma from the cloves begins to come through, about 4 mins. Remove the cloves. Fill 20 shot glasses half way to the top with the fruit and a little juice.
To make the custard: whisk the egg yolks, cardamom seeds, flour and sugar until thick and light in colour. Bring the milk to the boil and pour over the egg mixture, whisking all the time. Put all the mixture into a heavy bottomed pan and stir over a very low heat until thick and coating the back of a spoon – do not allow the mixture to simmer. Remove the seeds, either with a teaspoon or my pouring the custard through a sieve. Pour into a bowl and allow to cool slightly. Spoon a little of the custard into the shot glasses and then cover all the glasses with cling film and refrigerate for at least 30 mins. Whip the cream and add a little lemon juice and icing sugar to taste. Top the trifles with the cream and serve.