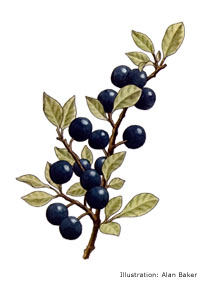 Sloe Gin is a British liqueur, which is traditionally drunk neat as a warming drink in winter. It's a combination of gin and sloe berries, the fruit of prunus spinosa, the blackthorn tree that grows wild throughout the UK.
The dark red berries look a bit like cranberries and, because of the warm summer, this year's crop is literally weighing down the trees. Old railway tracks and sidings are good places to find them. It's best however to wait for the first frost before you pick, so the end of October and early November are prime sloe gathering times.
Making your own sloe gin is easy. First gather your sloes and prick each one with a silver needle. Then simply fill an empty gin bottle or larger container half way with sloes, add 2 inches of castor sugar, and top up with full strength gin. Or you can add the sugar later for a less sweet flavour. Then leave the mix for about 3 months, shaking the bottle every now and again, and you have it.
Commercially produced sloe gin is just as good and both Gordon's Sloe Gin and Plymouth Sloe Gin have recently made the leap from the hip flasks of the hunting, fishing and shooting set to the backs of the most stylish bars. Sloe Gin is delicious on its own and an excellent alternative to brandy or port as an after dinner drink when you've got friends over for supper. Or try adding 25 ml of Sloe Gin to champagne or sparkling wine for an aperitif that not only tastes great but also looks very pretty. Once the favourite drink of prim Victorian ladies, there's now a raft of new ways of drinking sloe gin in cocktails and long drinks that tie in with the fashion for drinking seasonally using locally sourced ingredients. Gordon's Sloe Gin for example is bang on trend with a blend of sloe gin and English apples, garnished with apple slices. Plymouth Sloe Gin has also developed a speciality cocktail for the 06 winter season, the glamorously named Sloe Berry Sparkle. They're both simple to make – check out the recipe panel below for details.
Sloe Berry Sparkle
Build over ice in a tall glass:
4 x fresh blackberries / crushed
1 x wedge fresh lemon / squeezed
1 shot Plymouth Gin
1 shot Plymouth Sloe Gin
2 shot Pomegreat pomegranate juice