Gintime Editor Geraldine Coates reports from the frontline of London Cocktail Week 2013.
London Cocktail Week's programme featured 250 events, with an increasing focus on on gin naturally. Obviously there was a lot of cherry picking required to hear about things we didn't already know so here's a round up of some of what we learned during the week.
Distillers Have Favourite Botanicals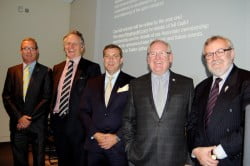 Organised by newly formed Gin Guild the "Me and My Botanical" event brought together five of the UK"S most experienced Master Distillers who between them probably make 99.99% of UK produced gin. So a real treat to have Desmond Payne of Beefeater Gins, Tom Nicol of Tanqueray, Nik Fordham of Bombay Sapphire and independents Peter McKay and Charles Maxwell all in one room talking about their favourite botanicals.
Tom Nichol waxed lyrical about chamomile and how it works in the still. Charles Maxwell explained the mysteries of the juniper berry and how its oil concentrates over time after harvest. Peter McKay who makes 80 different gins at Langley in the Black Country talked about coriander, which is a close relative of the carrot – who knew that? Desmond Payne sang the praises of citrus with its 'sharp elbows' and why it works with so many of the classic citrus based cocktails. He also went Heston with a very interesting explanation of how the molecules in tea botanicals attach themselves easily to other flavours. Nik Fordham focused on angelica and the spice botanicals – who could guess for example that angelica is still used today by the indigenous Sami people of northern Scandinavia to flavour reindeer milk – endless possibilities for new cocktails there!
The Artesian is the World's Best Bar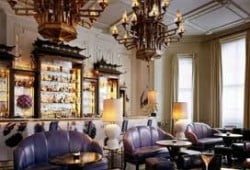 The Artesian at the Langham Hotel in London was voted the best bar in the world for the second year running in an independent poll, voted for by an academy of almost 230 worldwide bar industry experts. A worthy winner of the prestigious World's 50 Best Bars and major congratulations go to Alex Kratena and Simone Caporale who have taken cocktail making and customer service to a new level.
For a full list of this year's World's 50 Best Bars including Gintime favourite Bramble Bar in Edinburgh which once again made it into the world's top bars – have a look here – http://www.worlds50bestbars.com/fifty-best-bars-list-2013/
Martinis Definitely Taste Better Stirred not Shaken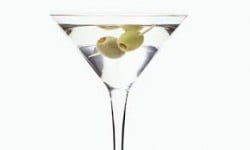 At the Bacardi Brown Foreman Home of Cocktail Culture in Neal Street in a fascinating seminar on the often-forgotten skills and techniques that make great drinks by Adolfo Comas and Joey Medrington we learned that Martinis really should not be shaken but stirred as shaking results in the ice particles diluting the drink and you can taste the difference between them. We also learned that egg white doesn't impart flavour but it does give texture and that if you want really cold drinks make a friend of ice and use a metal shaker.
White Lyan is The Place to Go
Good Gintime friend Ryan Chetiwardana's just opened White Lyan bar just off Hoxton Square is hot, hot, hot. The first project between Ryan and multi award winning Iain Griffiths has created a new concept in cocktail drinking – no ice, no perishables and all the drinks are pre-batched and simply need to be served rather than prepared on request. We had a taster of the White Lyan experience when Ryan and Ian made the drinks for Caorunn Gin at the very splendid Worlds 50 Best Bars Awards ceremony at London's One Mayfair. Truly amazing drinks were served – more details of the recipes to come.
Hendrick's Gin is Really Good at Reaching Consumers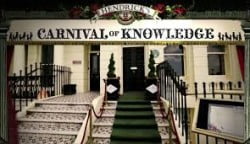 In the great gin renaissance that is currently underway it's often forgotten that, despite the massive interest in gin from bartenders and connoisseurs, vodka remains the spirit of choice for consumers. So there is a lot of work to be done to spread the juniper love.  Whilst all the major brands have well developed strategies for reaching out to consumers a visit to the delightful Hendrick's Carnival of Knowledge at Fitzroy Square was an instant reminder of how often Hendrick's gets it right. A packed house of chic people elegantly sipping delicious cocktails and making the most of Hendrick's quirky mix of great drinks, fascinating talks and unique opportunities to discover new things even the taste of maggots, the food of the future, was testament to the Hendrick's approach.