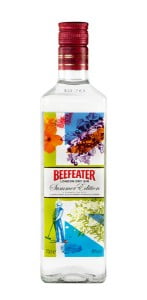 Hot on the heels of the success of his last masterpiece Beefeater 24, Master Distiller Desmond Payne has created anexclusive limited edition version of the award-winning Beefeater Gin to celebrate summer. The Beefeater London Dry Summer Gin includes delicious new floral botanicals that capture the essence of summer including elderflower, hibiscus and blackcurrant. It's a lighter style gin and is presented in the same distinctive bottle shape as the original Beefeater London, decorated with floral images to reflect the new botanicals.
Desmond Payne explains: "I wanted to create a gin that would be ideally suited to lighter summer drinks and take advantage of those rarer botanicals that are less available to remind consumers of the wonderful aromas and tastes of summer in a gin."
Brand Director for Gins at Chivas Brothers Simon Burley adds: "Beefeater has a long-standing tradition of innovation stretching back to the days of James Burrough and we are committed to continuing this. Desmond has upheld this tradition with the highly acclaimed Beefeater 24 and we are delighted that he is continuing to break new ground in the gin category with the release of our new limited edition Summer gin.
Beefeater Brand Ambassador, Tim Stones, has created new cocktails to showcase the flavour of Beefeater Summer. Watch this space for details of how best to enjoy Beefeater Summer in a range of delicious drinks
Beefeater London Dry Summer Gin will be available from May 2010 in a Special Edition bottle for a limited period and will retail at £17.99.