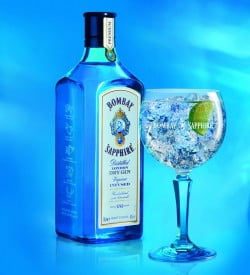 With the launch of its immensely stylish balloon glassware Bombay Sapphire has created a brand new initiative to boost the G and T drinking experience. Here's the theory: with 95% of flavour coming from your sense of smell, aromas trapped by the glassware's balloon design are allowed to linger, offering a more intense, fuller flavoured experience, while the stemmed design keeps the liquid cooler for longer.
The new balloon glasses will be seeded in the UK with over 30,000 glasses going into the on-trade alone. The launch will be supported by premium tent cards in the on-trade and with outdoor advertising to encourage the brand's target audience to try the Ultimate G&T. Consumers can also get their hands on the Balloon Glasses via an off-trade gift with purchase promotion that is running exclusively in the convenience channel. All you have to do is buy a large bottle of Bombay Sapphire and you can claim free glasses at www.drinksmadeeasy.co.uk
Great just in time for the sun coming out at last!