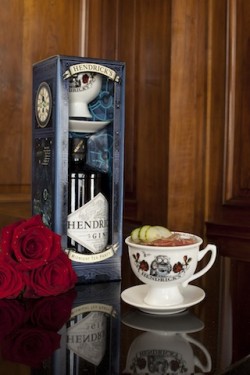 How delightfully Alice in Wonderland – Hendrick's Gin introduces its Midnight Tea Party Pack, featuring a limited-edition Hendrick's teacup and saucer, as well as a bottle of its delightfully peculiar gin, at no extra cost. Available now at selected retailers, the Midnight Tea Party Pack encourages the curious to revel in the mysterious hour of midnight, when the deeply unusual can slide away from the shadow of the humdrum…
The gift pack also has several charming cocktail recipes, created by three of the UK's foremost bartenders:  Jason Scott of Bramble Bar in Edinburgh; Thor Bergquist of The Experimental Cocktail Club in London; and Duncan McRae, Hendrick's British Ambassador.  Here's the Ambassador's suggestion for a refreshing tea cup tipple:
Hendrick's Tea Time Jam & Tonic
Ingredients
40ml Hendrick's Gin
1 teaspoon strawberry jam
2cm diced cucumber
Tonic water
Add ingredients to teacup without tonic. Stir until jam is dissolved, then infuse for a few moments before adding ice and topping with tonic.
The Midnight Tea Party Pack is available at Waitrose, Sainsbury's, Asda, Morrisons and Tesco at an RRP of £27.09.