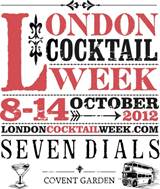 London Cocktail Week has announced a partnership with Seven Dials, Covent Garden to become the new official hub for the event.
Running from Monday 8th October until Sunday 14th October, London Cocktail Week will once again provide the platform for drinks companies to host a series of seminars, pop-up bars, tastings, parties and master-classes.
Major drinks companies such as Bacardi Brown Forman, Diageo, Pernod Ricard UK and First Drinks, as well as many boutique brands have already committed to hosting events within Seven Dials and are using the opportunity to reach both trade and consumers in this popular area of London.
With over 17,000 wristbands allocated in 2011 – a 250% increase on Year One – the festival is set to be even wider reaching in 2012, attracting consumers nationwide and trade professionals from around the world.
Commenting on the new partnership, Samantha Cuthbert-Brown, Communications and Marketing for Seven Dials commented: "We are delighted that Seven Dials is set to be the new hub for London Cocktail Week, and with an ever expanding selection of drinking options in Seven Dials, the area has something for every palate".
Hannah Sharman-Cox, Festival Director, adds: "2012 will showcase London like never before, and as London Cocktail Week goes into its third year it promises to be bigger, better and wider-reaching. We're thrilled by the level of support we're seeing from the drinks trade, and our new partnership with Seven Dials, situated in the heart of the West End, will provide a great hub for cocktail lovers throughout London".
Registrations for the London Cocktail Week wristband and bus pass will open in August later this year at www.diffordsguide.com/london-cocktail-week. Details of activity at Seven Dials' participating bars, hotels and restaurants will be published in Autumn 2012 at Sevendials.co.uk. London Cocktail Week in Seven Dials will take place between Monday 8th to Sunday 14th October.