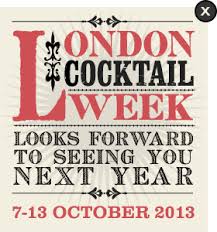 So London Cocktail Week is almost upon us again and it's time to make some hard choices of what to see and where to go in this very packed programme.
We can confidently say where Gintime will be on Tuesday 8th October and that is at the London Transport Museum listening to a quintet of Master Distillers – Desmond Payne of Beefeater Gins, Tom Nicol of Tanqueray, Nik Fordham of Bombay Sapphire and independents Peter McKay and Charles Maxwell talking about the mystical and magical world of spirit and flavour. Each will speak either about a single botanical that is special to them (and their gin), or about individual gin styles (and the suitability of a particular gin style in various applications). 

This trade seminar is a unique gathering of gin making experience under one roof as well as a rare guide to gin and the various main styles. There will be Q and A afterwards so here's your chance to get up close and personal with the greats of British distilling. To attend this free "Me and My Botanical" event please email; ginbotanicals@gmail.com 
You will be notified by email if you have a reservation.
When: Tuesday 8th October, 13.30 to 15.30
Where: Screening Room at London Transport Museum, Covent Garden Piazza WC2E 7BB. Nearest tube: Covent Garden