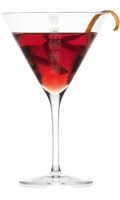 And here's our treat as soon as the clock hits 6.00 pm. The Rowan Berry is a twist on the original Martinez with a sweet mouth feel and strong alcoholic depth. The flamed orange zest adds a fresh perfume and ties in with the use of Orange Peel in the botanicals of Caorunn whilst the berry taste reflects the rowan, one of Caorunn's special Celtic botanicals.
50ml Caorunn
15ml Creme de Mure
10ml Sweet Vermouth
2 drops Angostura bitters
Glass
6oz Martini/cocktail glass
Garnish
Method
Shake all ingredients with ice and fine strain into a chilled glass.