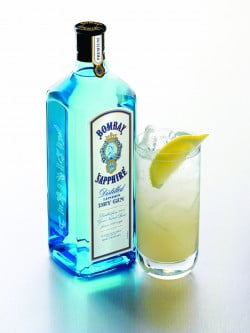 Wow! we've had Secret Cinema, scratch and sniff cinema, film scores re-imagined by DJs and musicians. But as yet, no-one has truly enhanced a cinematic experience with food… until now! On Sunday 13 May, the Electric Cinema in Portobello Road and Bombay Sapphire Gin are proud to present 'Edible Cinema'; a collaboration between the team at Soho House, renowned experience organiser Polly Betton, experimental food designer Andrew Stellitano and Bombay Sapphire's brand ambassador Sam Carter.
The concept is simple: the audience are given a series of numbered 'packages' before the start of the film which contain food and Bombay Sapphire specially created tasters. At specific points during the film large placards with corresponding numbers will be shown to the audience instructing them to consume the contents of the packages.
On arrival, guests will also be given a special Bombay Sapphire 'Bombay Buck' cocktail inspired by the film. A refreshing long cocktail combining Bombay Sapphire gin, fresh lemon juice and elderflower cordial, topped with ginger ale and garnished with a lemon wedge – the perfect balance between sweetness, sourness, and the effervescenting effect of ginger ale.
This experience is not just about eating; the smell, texture, even the way your mouth feels after eating the contents of the 'packages' will correspond to what's happening onscreen and heighten the viewers sensory experience of the film.
The first film to be re-imagined as edible cinema is Guillermo Del Torro's Pan's Labyrinth. Imagine eating pine smoked popcorn while sniffing a pine scented handkerchief as Ofelia and Carmen travel through the Spanish woodland onscreen. Or perhaps when Ofelia eats an enchanted grape you're also eating the most incredible grape you've ever tasted – Andrew has designed a carbonated red grape, but we can't guarantee it'll wake up any sleeping monsters!
Edible Cinema starts at 8.30pm on Sun 13 May and is bookable through the Electric Cinema Box Office on 020 7908 9696 / www.electriccinema.co.uk
Tickets are as follows: Front Three Rows – £22.50, Footstool seats – £25 and 2-seater sofas – £55 per sofa (27.50pp) Better hurry, they're going fast