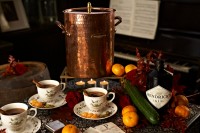 Hendrick's Gin has partnered up with the wonderful Purl in London, a bar that that shares this drink's name, to create a seasonal recipe suitable for Dickens himself.  With hoppy ale and cucumber infused gin, here it is.
150ml Hendrick's Gin
1 litre of good quality hoppy ale
200ml cloudy apple juice
5 slices of satsuma
1 cinnamon stick
90g sugar
5g hops
2 cloves
1 dessert spoon honey
2 large splashes of Angostura Bitters
1 whole star anise
An easy one to make at home this Christmas. Just heat ingredients in a pan.  Simmer for 20 minutes then strain the hops out and serve with satsuma slices and a stick of cinnamon to garnish. For 6 people.