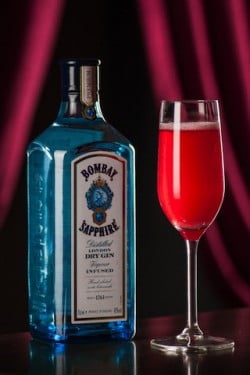 Bombay Sapphire and Virgin Atlantic are delighted to introduce the "Red Carpet," a limited edition cocktail created by Bombay Sapphire World's Most Imaginative Bartender, Matteo Vanzi that will be featured on the Virgin Atlantic Clubhouse menu. The cocktail was exclusively created for Virgin Atlantic and will be available at the airline's Clubhouses in Heathrow, Gatwick, Hong Kong, San Francisco, Washington, JFK, Newark and Johannesburg for 12 months.
As the winner of Bombay Sapphire's Most Imaginative Bartender global competition, part of Matteo Vanzi's prize was to create a new signature cocktail for Virgin Atlantic. The cocktail is an indulgent yet refreshing combination that features Bombay Sapphire, St. Germain elderflower liqueur, Crème de Framboise and fresh lemon. These ingredients are shaken together and served in a champagne flute, then topped up with Prosecco.
Matteo Vanzi, who worked closely with the Virgin Atlantic team to develop the "Red Carpet", commented: "My inspiration for the cocktail comes from those exciting emotions you feel when you are at the beginning of something beautiful like a holiday. I'm grateful to Bombay Sapphire as it was truly an honor to be given this opportunity and I can't wait for the Clubhouse's passengers worldwide to enjoy a taste of my imagination."
Matteo was crowned Bombay Sapphire World's Most Imaginative Bartender at the global cocktail competition which took place in May 2013 in Tuscany, Italy, the home of juniper. He competed against 10 other professional bartenders from around the world for the accolade awarded by the world's fastest-growing gin brand1.
Bombay Sapphire Global Marketing Manager Emma Johansson said: "Our partnership with Virgin Atlantic gives Matteo and other top bartenders like him a fantastic platform to showcase their creativity, which is core to cocktail making and the Bombay Sapphire gin brand. From the 10 exotic botanicals we source from all over the world to make our gin, to the unique Vapour Infusion distillation process and our iconic blue bottle, as a brand we believe imagination makes the world a better place. The Bombay Sapphire team is especially proud to champion the important role it plays in truly imaginative cocktail making."