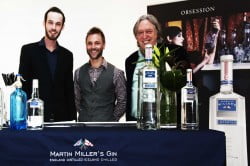 An up and coming mixologist is toasting his success after taking the top prize at a prestigious gin cocktail competition in London last week. Matteo Vanzi, who can normally be found twirling his bottles at The Hide Bar in London, triumphed at The Hilton Cocktail Competition with Martin Miller's Gin, which was held on Valentine's Day at the Green Park Mayfair Hilton.
Matteo was one of 10 leading mixologists that were shortlisted to battle it out to be crowned Martin Miller's cocktail champion, and impressed judges with his exotic gin concoction.The challenge was to create a cocktail that embodied the essence of the product – love, obsession and madness. Matteo's winner 'Catherine' certainly did the business. Here's the recipe:
Catherine
50 ml Martin Miller's Westbourne strength
20 ml Klein Costantia 'vin the costance' 2005 South Africa
10 ml Americano Cocchi Torino
Drop of Iris extract 'Farmaceutica Santa Maria Novella' Firenze
Icelandic water
As Matteo Vanzi explained: "My love of bartending began when working in a bar to pay my way through university in Rome, but in the end my passion for the job overtook everything else. I learnt my trade at fantastic establishments in the city, but after working with some great mixologists from London, I was inspired to move to England to hone my skills.
"The Martin Miller's gin competition was the first I'd ever entered so I was delighted when my hard work was recognised at the final. The reputation of the spirit is second to none, and not only did I get to meet the inspirational Martin Miller himself, but I got to indulge in my passion for creating new and exciting drinks with the highest quality ingredients."
The winning prize included a two night stay for two in one of Martin Miller's luxury hotels and a Martin Miller's 10 year anniversary bottle.
And the runners up were :
2nd place: Daniel Carvalho – Hilton Waldorf
Tango Essence
45 ml Martin Miller's gin 40%
20 ml Mandarine Napoleon
15 ml Forest Tea
10 ml fresh lemon juice
5 ml vanilla syrup
2 drops rose water
3rd place: Tim Homewood – Bam Bou
Relationship Reviver
50 ml Martin Millers 40% Gin
25 ml Lillet Rouge
15 ml Gabriel Boudier Cherry Brandy
25 ml fresh lemon juice
15 ml homemade rose syrup
3 dashes Grapefruit Bitters
25 ml egg white