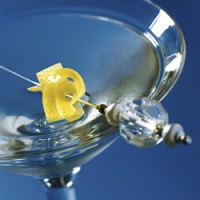 The legendary martini cocktail is the most iconic of gin drinks. It has been said to link back to the Martini & Rossi vermouth brands, or possibly created by a man called Martini from the Knickerbocker Hotel in New York City, having evolved from the Manhattan via the Martinez. Either way there is no drink which better highlights the flavour and aroma of gin.
60ml Bombay Sapphire
5ml Noilly Prat Dry Vermouth
(increase for a wet martini)
Fill a mixing glass to the brim with ice. Splash over the vermouth, stir once, strain the excess liquid leaving the ice in the glass. Pour over the Bombay Sapphire, stir carefully but rapidly for 20-30 seconds, until ice-cold. Strain into the chilled martini glass. Garnish with a lemon zest.
The peppery notes of Bombay Sapphire complement a martini serve beautifully, giving the drink exceptional balance. The complexity of flavour in the spirit works in harmony with the fragrant characteristics of a dry vermouth, with lemon zest highlighting the citrus accents within the drink. Bombay Sapphire works particularly well in a wet martini.