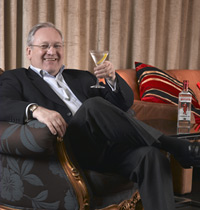 Desmond Payne, Master Distiller for Beefeater, celebrated 40 years in the industry on 11 September 2007. Gintime got the lowdown from the world's most experienced gin Master Distiller.
So Desmond how did it all begin?
DP: I fell into distilling via the wine trade. It all started when I got a Christmas job in Harrod's after spending the summer at the vendage in France. I worked in the cellars at the Harrods store where they used to bottle their own wines. I then wrote to all the wine companies asking for a job and in 1967 I was taken on by Seager Evans who were wine merchants and distillers. As a trainee I did a bit of everything and ended up in their gin distillery at Deptford Bridge. Seagers owned Plymouth Gin and some very big whisky brands. Some of the trainees got sent to places like Australia and Chile. I got sent to Plymouth as Assistant Distiller and I wasn't thrilled about it at the time.  It was 1969 and I had a fantastic flat in the King's Road and was really enjoying London! I worked my way up to Assistant Manager and eventually Distillery Manager, as well as working briefly on whisky in Scotland. I was at the Plymouth Distillery for 24 years until 1995 and loved my time there. Allied Domecq owned both Plymouth Gin and Beefeater and when Brian Martin, the Beefeater Distiller, retired, I came back to London to Beefeater. Since Pernod Ricard took over the brand, it's been very exciting for us at the Distillery with lots of energy and enthusiasm. Now I'm also very involved in revitalising the image of Beefeater.
Have there been many changes in the industry?
DP: The people have changed but distilling itself hasn't changed at all. There has been some automation and streamlining to make things safer and more efficient. In 1995 for example seventeen people worked in the distillery, now there are five. But distilling remains very much a craft process. I still choose all the botanicals and we put them in the still by hand exactly how it was done when I first started. I am custodian of a 140 year old recipe and the only difference between now and when James Burrough was making Beefeater is that, with modern technology, it's easier to have consistency.
Will gin ever get back to its glory days?
DP: When I first started as distiller, vodka was much smaller than it is now and gin was the predominant white spirit. The gins that survived the years of decline are having a revival now and it's good to see that. Gin will regain its share of the market but I doubt it will dominate again the way it once did. No spirit will. People have much more choice than ever before and are very conscious of what they eat and drink. Quality spirits are much more available than they were twenty years ago. The good news for gin is that it used to be seen as almost an industrial spirit but that's all changed. Consumers today realise that making gin is about craftsmanship and skill and quality. There's also massive interest in the classic cocktails and since most of them are gin based that's making people look at gin with new eyes.
You've worked on two major gin brands with heritage and provenance. What do you think of all the new gins that are around today?
DP: Gin is a very versatile spirit and it's great that new gins are coming to the market as it demonstrates that there is interest in gin again. It was a category that had become stale and moribund. From a production point of view it's easy to create new flavours by using botanicals that haven't been used before and these new styles of gin are changing people's perceptions of gin. Ultimately it means there's even more choice and variety.