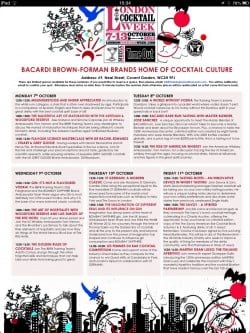 Bacardi Brown Foreman  Brands' Home of Cocktail Culture at 69 Neal Street in Covent Garden was the place last year during London Cocktail Week and looks like repeating the success this year too. Of particular interest to gin lovers and certainly must sees for Gintime are:
 Gin – It's Not a flavoured Vodka
Wed 9th October 12.30 to 13.30
Bombay Sapphire Brand Ambassador Sean Ware puts the case for why gin is definitely not flavoured vodka and why it is the base for the best cocktails
 The Imagination of Different Eras and Its Influence of Gin
Thursday 10th October 14.00 to 15.00 hours
Sean Ware and UK WMIB winner Joe Wild journey through the story of Bombay Sapphire Gin from the original recipe created by Thomas Dakin to the present day.
Here's the full BBF programme at 69 Neal Street, Covent Garden:
Monday October 7
12:30-13:30
Misunderstood and Underappreciated – 
An introduction to the white rum category, a style that is often overshadowed by age. Participate in a comparison of Spanish, English and French styles and learn how to make great drinks with the best cocktail spirit base of all.
14:00-15:00
 The Masterful Art of Maturation with The Artesian and Woodford Reserve 
Alex Kratena and Simone Caporale from The Artesian Bar at London's Langham hotel join American whiskey ambassador Tom Vernon and the BBFB training team's Joey Medrington to discuss the many maturation techniques that are being used to create fantastic drinks, including The Artesian's leather-aged Unfinished Business cocktail.
15:30-16:30 
Flavour Science Master Class with Dr Rachel Edwards-Stuart and Grey Goose. 
Having worked with Heston Blumenthal and Dr Herve This, Dr Rachel Edwards-Stuart specialises in flavour science. Join her and challenge your preconceptions around taste, guided by her scientific research, while enjoying samples of exquisite Grey Goose cocktails with UK Grey Goose brand ambassador Oli Blackburn.
Tuesday October 8
12:30-13:30
 A World Without Vodka. 
BBFB training team's Leanne Davidson takes a glimpse into a parallel world where vodka doesn't exist. Would cocktail culture be as it is today without this illustrious spirit in your speed rails or back bar?
14:00-15:00
 Bacardi Rare Rum Tasting with Master Blender José Sanchez. 
A rare opportunity to meet the master blender of Bacardi rum, José Sanchez. Discover what it takes to become a master blender and learn about his life passion for rum. Plus, a chance to taste the 150th Anniversary Decanter, a limited-edition rum created by eight family members who were master blenders. With only 2,000 bottles created globally, and a price tag of over $2,000 per bottle, this is a tasting not to be missed.
15:30-16:30
 The Rise of American Whiskey. 
Join BBFB's American whiskey ambassador Tom Vernon for a discussion tracing the rise of American
whiskey through the ages, focusing on pivotal drinks, historical influences and key figures in this great spirits journey.
Wednesday October 9
12:30-13:30 
Gin: It's Not Flavoured Vodka!
The BBFB training team's Ozzi Fanghanel and Bombay Sapphire brand ambassador Sean Ware argue why gin is most definitely not a flavoured vodka, and why it is the base of so many beloved classic cocktails.
14:00-15:00
 The Art of Hospitality with Woodford Reserve and Luis Simoes of The Ritz
. Dust off your dinner jacket and join American whiskey ambassador Tom Vernon and Luis Simoes of The Rivoli Bar at The Ritz to talk about the finer elements of hospitality and see how they do things at the world-famous Ritz.
15:30-16:30 
The Golden Rules of Cocktails. 
Join BBFB training team's Adolfo Comas and go through the often-forgotten skills and techniques that can help take your drinks from being good to great.
Thursday October 10
12:30-13:30 St-Germain: A Modern Classic. 
Come and see Madame St-Germain, UK brand ambassador Camille Vidal, bring this exceptional elderflower liqueur to life. Five incredible St-Germain cocktails will be showcased from some of the world's most respected cocktail bars such as Attaboy in New York City and The Savoy in London.
14:00-15:00 
The Imagination of Different Eras and Its Influence On Gin. 
Imagination has always been at the heart of Bombay Sapphire gin. Join UK brand ambassador Sean Ware and Joe Wild, UK winner of the World's Most Imaginative Bartender competition 2012, for a journey from the time of 18th-century gin distiller Thomas Dakin via the golden era of cocktails and all the way to the present day and beyond. Understand how the power of imagination has shaped and continues to influence gin consumption and Bombay Sapphire.
16:00-18:00 
Les Femmes du Bar Cocktail Competition. 
Come and support some of the industry's finest women as they compete for the chance to win guest shifts at Candelaria in Paris and London's Opium in collaboration with St-Germain.
Friday October 11
12:30-13:30 
Tasting Notes: An Innovative Device in Whisky Tasting. 
John Dewar & Sons malts global marketing manager Stephen Marshall will be taking you on your own whisky tasting journey. He will use a unique tasting notes device to determine your own whisky preferences and also share some stories from previously unreleased single malts.
14:00-15:00
 The Savoy: A Spirited Partnership
. Join Erik Lorinz and Declan McGurk of The Savoy's American Bar as they chronicle The Savoy's iconic cocktail heritage, culminating in a charity auction offering the opportunity to lay your hands on a limited-edition copy of The Savoy American Bar Cocktail Book Volume I & II. Featuring drinks of all 11 head bartenders, Volume I has been signed by five surviving head bartenders. This will be in aid of The Benevolent – the UK drinks industry charity which seeks to improve the quality of living for members of the drinks community who find themselves in times of need.
15:30-16:30
 Martini Gran Lusso: The Italiano Aperitivo
. Join vermouth expert Giuseppe Gallo introducing the 150th anniversary edition Martini Gran Lusso and celebrate the moment with Italy's aperitivo tradition and the cocktail libations that have made it famous over the last 150 years.
Bartenders and trade can register for their free London Cocktail Week wristbands at www.londoncocktailweek.com/tradewristbands.