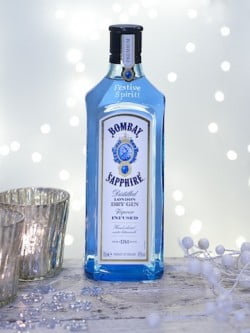 Oooh lovely! This December Bombay Sapphire is launching an original bespoke experience at London's Selfridges, for those looking for a unique and imaginative Christmas gift.
On Tuesday 10 December and Wednesday 11 December, those visiting The Wine Shop at Selfridges will have the opportunity to add a personal message to their bottle of Bombay Sapphire gin, through an exclusive hand-engraving service. The Bombay Sapphire engraver will be available to customise the iconic blue bottles with names, initials or unique festive wishes for a truly one of a kind Christmas keepsake.
For the ultimate gin lover, a limited number of Bombay Sapphire 'The Ultimate Gin & Tonic Project' recipe books will also be available to customers using the engraving service. Created in partnership with some of the most forward-thinking names from the worlds of fashion, food, art and design, the book is full of inspiration for creating imaginative festive twists on the popular Gin & Tonic. Alongside the bespoke bottle, the limited edition book will make the ideal gift for those in search of something a little different.
The bespoke engraving service and 'The Ultimate Gin & Tonic Project' recipe book (whilst stock lasts) will be available complimentary to Selfridges customers  purchasing a bottle of Bombay Sapphire gin from The Wine Shop at the following times:
Tuesday 10 December from midday until 8pm
Wednesday 11 December from midday until 8pm
 'The Ultimate Gin & Tonic Project' recipe book will also be available to view online at www.urbanjunkies.com/ultimateginandtonic